Beup Live is a MSN Messenger client for the Nintendo DS.
You can use your own avatars and icons.
Just download the Beup Live and put the folder called "Beup" in the root of your card.
Have fun chatting!
Watch Beup Live in live action: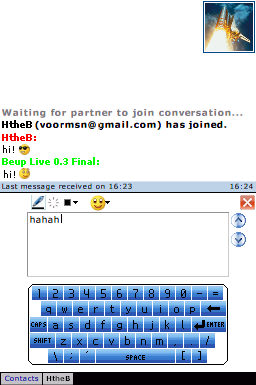 Download Beup

(With DLDI)
Beup Live 0.7
WARNING! You need to patch Beup with DLDI!
get the patcher at Chishm's website:
http://chishm.drunkencoders.com/DLDI
Can't get Beup to work?
Click here to see how to setup Beup if you can't run it!

Credits:
HtheB
&
kevinC